HD picture and sound quality and HDTV are breakthrough technologies that have made TV programs more realistic than ever before. Fortunately, Polish TV online in the HD standard is possible thanks to the PolBox.TV platform.
What are HD and HDTV?
HD technology, or High-definition, makes the level of image and sound quality at a much higher level. This applies to both images seen on TV and those online. HDTV is the television broadcast using the HD technology.
High-definition TV allows you to watch programs in the original, wide-format classroom. Thanks to this the picture looks even more realistic and is not distorted in any way.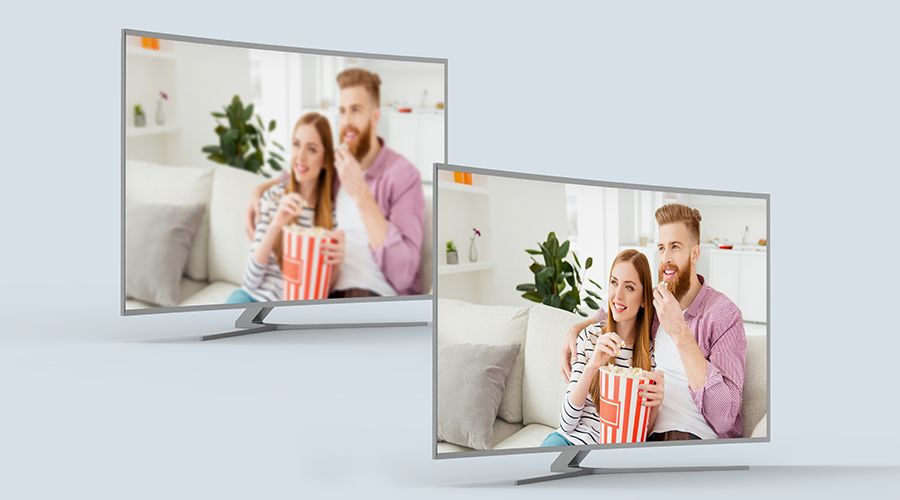 What is the difference between HDTV and television in the standard format?
Standard TV (SDTV) is usually displayed in 4: 3 format, TV in HD format is emitted in 16: 9 dimensions, which makes it resemble the picture displayed in the cinema. It also enables the full potential of modern widescreen TVs to be used.
First of all, however, HD TV has a higher resolution and is able to display much more pixels than standard TV. A pixel is simply the smallest element displayed on the screen, the more pixels (and lines of pixels) the more detailed, sharp and realistic image. With standard definition, 576 horizontal lines are displayed on the screen, while HDTV displays up to 1080 lines.
The differences between standard TV and HD format are most easily seen in the graphical example. The above illustration shows an enlarged section of the image marked with a square, with resolutions of 480, 720 and 1080 respectively.

One look is enough to notice that the higher the resolution, the more detailed and realistic the image.
HDTV also means better sound effects and greater transmission stability.
In addition to the excellent image, the digital HD audio signal is of better quality than the analogue TV sound. It sounds more natural and allows you to immerse yourself in the world presented on the TV screen.
What's more, TV in HDTV technology also means more stable transmission, which is not disturbed by external factors such as the weather situation. HDTV means, for example, that the noise coming from TV is practically a thing of the past.
High quality Polish television online in the PolBox.TV offer
The PolBox.TV platform aims to provide the best possible picture and sound quality for its recipients. Therefore, the offer is rich in programs and films broadcast in HD technology. By choosing PolBox.TV, you can enjoy a much higher quality of picture and sound than, for example, using DVDs.
So to enjoy HDTV online, just choose the right TV package. It should also be remembered that due to its high quality, high-resolution technology requires a correspondingly high bandwidth. Its stability is also important so that the online transmission is smooth. To increase this stability, you can, for example, connect a given receiver to the Internet source via a LAN cable.