Wideoteka – jest to stale aktualizowany zbiór filmów posortowanych według gatunków, które można oglądać w najwyższej jakości za pomocą podłączenia do internetu.
Abonenci PolBox.TV mają dostęp do wideoteki, za pomocą dekodera oraz oglądanie bezpośrednio przez internet za pomocą playera PolBox.TV. Oglądaj ulubione filmy oraz seriali będąc za granicą bez satelity!
Nasza kolekcja zawiera ponad 1500 filmów, które można oglądać w HD jakości.
Mamy również dzielenie filmów według gatunku, które pomogą Ci szybko wybrać żądany film w tym momencie. Dramat, historyczny, komedia, western, dokumentalny.
Zespół PolBox.TV pracuje, aby dodać coraz nowsze premiery. Prosimy sprawdzać aktualności na naszej stronie internetowej oraz na Facebooku.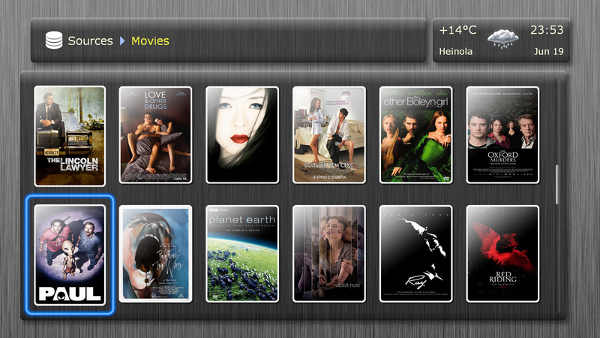 Dla komfortu oglądania zostały stworzone następujące sekcje:
"Nowości" – zawiera wszystkie filmy, posortowane według daty dodania do Wideoteki.

"Gatunki" – to katalog filmów według gatunków.

"Ulubione" – zawiera filmy, które zostały oznaczone do oglądania.

"ТOP" – najczęściej oglądane filmy

"Szukaj" – przy pomocy klawiatury możesz łatwo znaleźć dowolny film.